Undertone
TRUE SUMMERs have cool gray and blue undertones. There is no warm quality in any of your features. The overall appearance is soft and muted.
Contrast
MEDIUM CONTRAST between your skin, eyes, and hair, blending naturally together. Your hair is relatively darker and contrasts with your skin and eyes.
Skin
Your skin has cool beige and pink undertones. It ranges from fair to medium. According to the metal test, Silver flatters you more than Gold.
Eyes
You have grayish-blue, green or brown eyes, they appear soft and muted. For detailed eye pattern analysis click here.
Hair
You have ashy hair tones ranging from blonde to dark brown, there is no warmth in your hair.
True Summer sits between Light Summer and Soft Summer on the seasonal flow chart. True Summer colours are the coolest and the most contrasted in the Summer family. They are cooler, brighter, and lighter than Soft Summers; they are also cooler, slightly darker, and more muted than Light Summers.
True Winter and True Summers have cool undertones in their features, but True Winter is bright with a higher level of contrast; True Summer, on the other hand, is muted with low contrast.

True Winters have cool blue undertones, whereas True Summers have cool gray undertones. Also, their colours are darker and clearer than True Summers's gentle colours.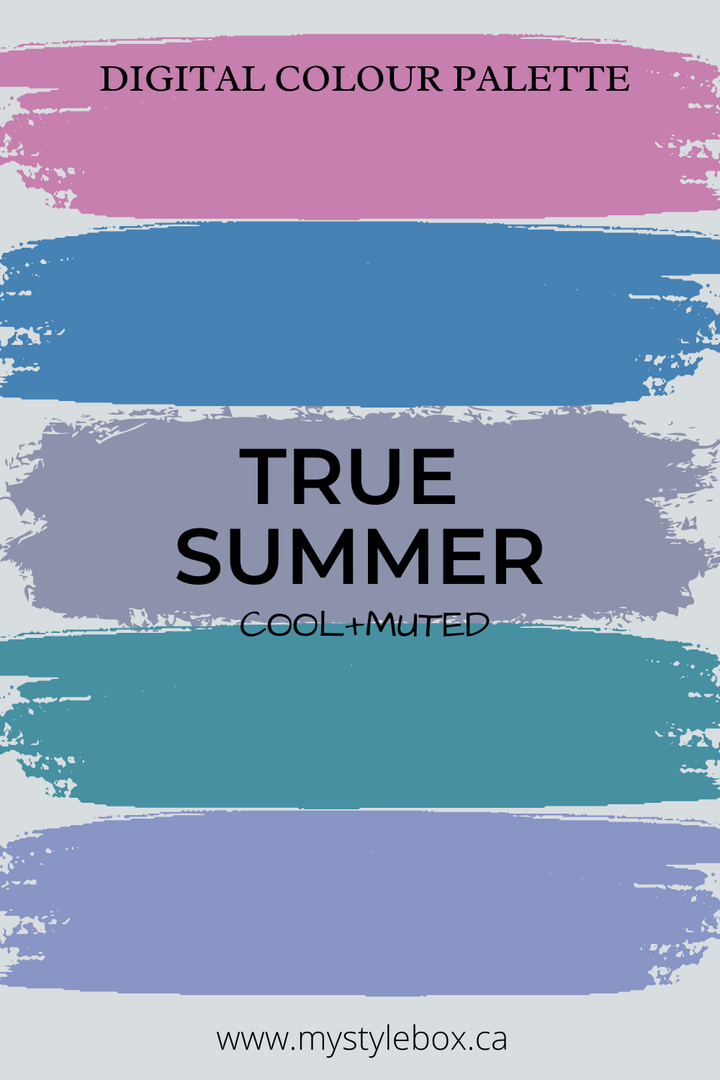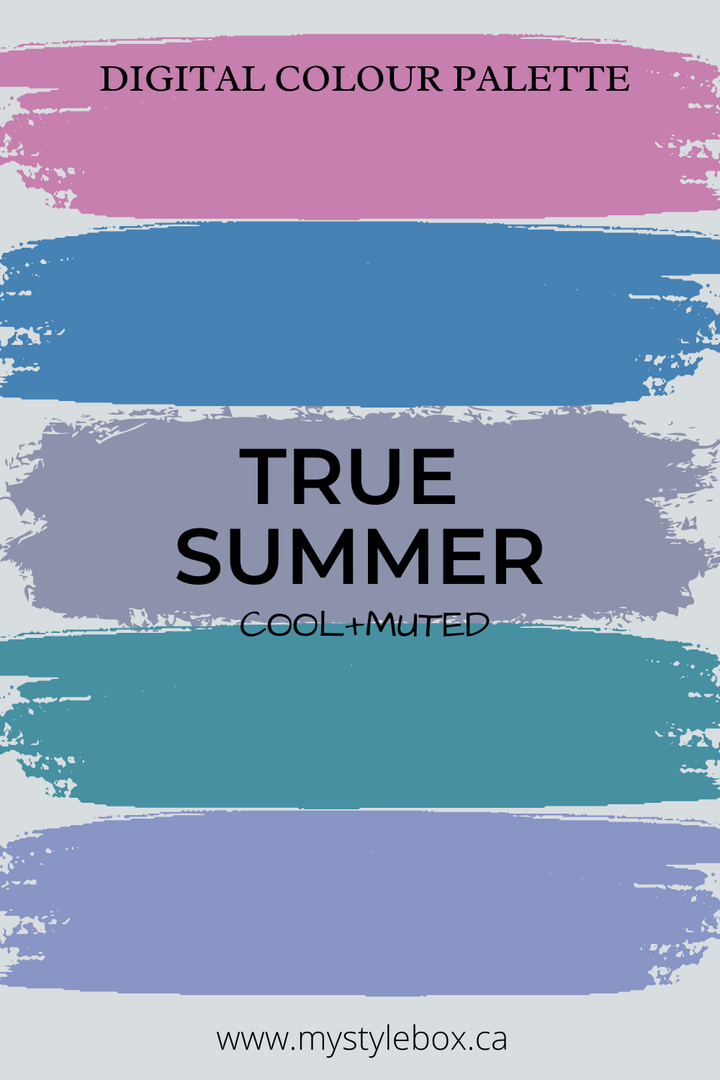 True Summer Colour Palette
This digital product features a colour palette for the "True Summer" or "Cool Summer" Season, consisting of 49 colours with corresponding HEX and RGB codes.
Upon confirming your order, you will receive a download link for a PDF file containing the codes for each colour on the palette. No physical copy will be shipped.
You can conveniently print or save the PDF on your phone to assist you when shopping.
Please keep in mind that this is a non-refundable product once you download the digital colour palette.
It's intended for personal use only.
CLOTHING COMBINATIONS
Technically you can create colour combinations by mixing and matching colours in your colour palette. You can combine your accent colours with your basic colours or dark or light neutral colours.
Your palette has soft, muted, medium-value colours with cool blue undertones.

You have medium contrast in your features, we recommend you choose monochromatic or analogous combinations, which means combining the different shades of the same colour (such as light blue and darker blue) or neighbouring colours (such as pink and lavender).

Avoid clear and bright colours, high contrast, and bold combinations (complementary, triadic or tetradic); otherwise, you look washed out behind your outfit.
Since you have a cool and soft appearance, neutral colours perfectly harmonize your natural look. Pair light neutral with darker accents or dark neutrals with lighter accents to achieve a medium level of contrast. Black is not in your palette cause it's too dark for you. Try deep gray shades instead of black. White is also too bright for you; you can choose other light neutrals or pastel pinks in your colour palette for your combinations.
PATTERNS&PRINTS
Since your natural look has medium contrast, your patterns should reflect the same. Your colour palette has medium-value colours meaning neither dark nor light. Choose the same colours in your palette for your patterns and prints.

Medium-scale, loosely arranged and light colour patterns such as flowers, watercolour designs and other loosely arranged designs. Avoid too dense, sharp, and geometric patterns.
Similar patterns, different shades
Medium Contrast, Medium value , OK
Medium Contrast, Medium Value, OK
Too bright and too light, NO
Other examples of True Summer patterns and prints
Please click here for more information about patterns and prints!
Explore our custom T-shirt collection tailored to your Seasonal Colour Palette!
Our TRUE SUMMER T-shirt collection features colours that perfectly match your unique colour palette. Each design and pattern is specifically tailored to your colour season, providing you with a beautiful and one-of-a-kind wardrobe. Check Out All Seasons!
True Summer Tshirt Collection
Your best metals are silver and white gold. Prefer matte, brushed and stained metals instead of shiny ones.

Natural gemstones such as Blue Topaz, Lapis, Blue Labradorite and Amethyst are good examples that fit perfectly with your natural appearance.
Disclaimer : Mystylebox is a participant in the Amazon Services LLC Associates Program designed to provide a means for sites to earn advertising fees by advertising and linking to Amazon. As Amazon Associates, we earn from qualifying purchases.
Foundation&Concealer
You have a cool skin complexion with blue undertones. You should choose a similar foundation colour to your skin tone, preferably the ones with pink-based, smooth, and matte finishes.
Blush
Blush colours should reflect your natural soft look. There are many different cool pink shades in your palette that you can choose. Matte finishes will blend with your skin tone naturally.
Lipstick
Your lipstick colours are blue-based pink tones. Avoid bright and warm colours; choose matte or slightly shimmer finishes.
Eye shadows
Your soft and muted colour complexion must be repeated with your makeup colours. Therefore, matte and completely cool eye shadows would be better for you. Avoid bright and warm colours as well as glitter ones.
Eyeliner&Mascara
It's better to choose eyeliners according to your eye colours, they should also blend with your eye shadow tones. Make sure that they are matte and not overly bright. Dark grays and blues are good choices for mascara.
Every Season has its own iconic notes and scents
Summer women should choose light, refreshing citrus or marine notes, such as orange blossom, lavender, green tea, rose, honeysuckle, island flowers, and sea salt.
If you are not True Summer, check out the other seasons below!